Production Description:
Euloong 3 Drawer Metal Mobile Pedestal (box/box/file) 5 wheels, Embedded handle. The low profile height can make it fit under most desks, creating extra file storage space in your office.
Dimensions:
Width: 390mm
Depth: 526mm
Height: 600mm
Features:
2 personal drawers and 1 filing drawer (box/box/file)
Full extension drawers
Ball bearing runners for extra durability
5 castors for mobility
1 plastic pen tray, 2 keys, Master key is available.
Comes assembled in carton for safe delivery
Durable electrostatic powder coating.
Suitable for A4/F4&Legal&Letter file folder
5 Year Warranty
ISO9001, ISO14001, OHSAS18001 &BV certificate
Colors:
White
Silver
Others
Warranty: 5 years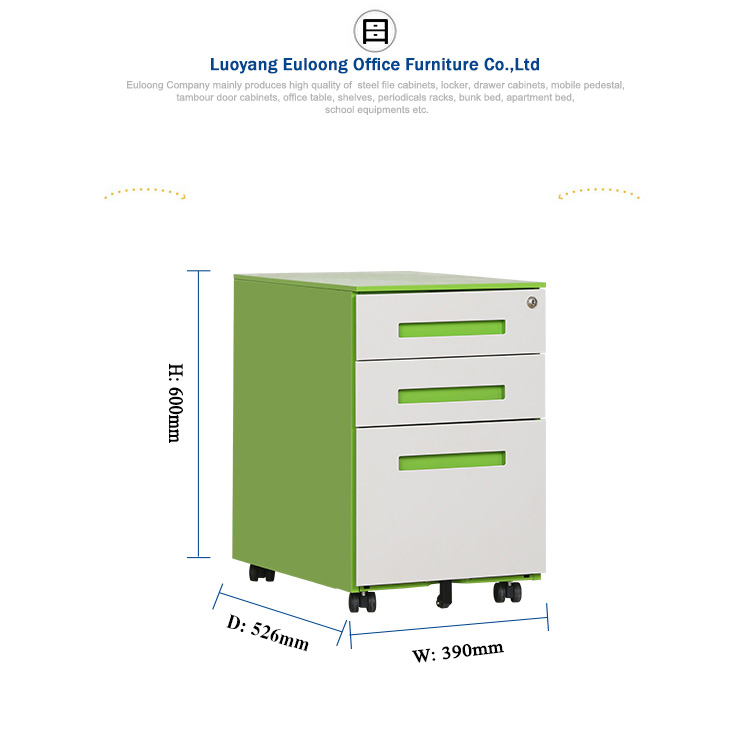 Euloong Metal Mobile Pedestal:
Material: High quality cold rolled steel plate, normally 0.7mm thick for all the cabinet.
Assembly structure, we mainly do assembly structure for our customer, which can save much time on assembling, so when arrives, people do not need take much time to assemble , and the most important things is to avoid any damages if assemble by some people who is not very professional.
Fittings: 1 Plastic pencil box in the first drawer, empty in the second drawer, one hanger in last drawer, it can be used to hang different type file folder, like A4/F4/LEGAL/LETTER size file folder etc..
Loading weight: it uses strong Three section steel slide rail for the drawer, so it can load around 40kg for each drawer.
Volume: normally its volume is about 0.147cbm for each, one 40ft container can load around 500pcs. One 20ft container can load around 200pcs.
Color: White , silver and black is very popular. Other color is few to do, only for some projects.
Euloong has a special production line for this kind mobile pedestal, and one professional technician team, If you have some special drawings, welcome to contact us, we can help you to make mobile pedestal.
Why select Euloong mobile pedestal
Now too many people tend to select one small mobile pedestal for their workstation, that make more and more mobile pedestal supplier comes out. How to select the best quality pedestal and suitable supplier? There is some point should be noticed.
1.Thickness.
There is usually 3 normal kind thickness in the market for mobile pedestal, 0.5mm, 0.6mm, 0.7mm, few with 0.8mm. If you cannot make sure which thickness the mobile pedestal use, there is one easy way, to measure its net weight, the heavier, the better. For example, if it is 0.7mm, the weight would be 21kg.
2.Surface effective
No matter which products we buy, it must be no little flaw from its surface. For steel mobile pedestal, you should pay much attention on its powder coating. A good quality should be no scratches, no welding spot, no rough, When you check it in a closer distance, it must be very smooth. Especially the corner and inner part of the mobile pedestal, a professional supplier must make sure all the parts is perfect.
3.Design
There is too many different type of mobile pedestal in the market, flush front type, goose-neck handle type, embedded handle type. Curve mobile pedestal, slim mobile pedestal etc.. It depends on your office whole style, select the best suitable type and color for your own working space.
If you have too much doubts on mobile pedestal selection , welcome to contact Euloong, we offer you special customized service to your office. A large range of color and type for your chosen.